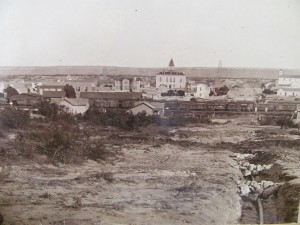 (Originally published Jan. 2010)
For quite some time, it has been the vogue to blame one's problems, faults, psychic disturbances or what have you upon someone or something else. I blame Roy Orbison! There! I've said it and I feel much better having done so. There I was, wandering aimlessly in the thrilling desert wasteland that is West Texas. I was perfectly content with my lot in life. I had a nice home, two loving parents, food on the table, few responsibilities beyond the usual "take out the trash, clean your room, walk the dog" chores. I was set, or so I thought, until Roy Orbison stepped in and ruined an otherwise fine future filled with ennui and minimum-wage employment.
Little did I know that fate was working overtime to derail my head-long rush to obscurity.  A mere 116 miles to the west, a group of high school musicians, James Morrow, Billy Pat Ellis, Charles Evans, Richard West and Roy Orbison had formed a band, The Wink Westerners.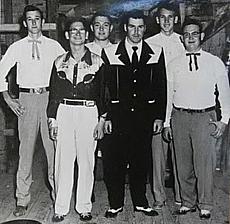 The Westerners performed covers of country-western hits, playing at local high school dances, civic events, even the local Lion's Club.  The band began including more rock covers in their sets, which only helped fuel their popularity. By 1955, the Westerners popularity led to an appearance on KMID-TV in Midland…a mere 40 miles west of my hometown.  The Saturday afternoon, live music program featured mostly country bands from the area.  The Wink Westerners were an immediate hit on the show and were quickly offered their own show, which aired Friday nights.
My sister Dee has to share some of the blame, along with Roy.  She introduced me to most of the fun things that the Fifties had to offer but usually didn't share with the likes of me.  One Friday afternoon, I was rambling aimlessly around the house when she grabbed me by neck and dragged me into the den.  "You have got to see this!", she said, in "that" tone of voice.  "That" tone of voice was the one that was not to be ignored, unless you enjoyed pain.  Playwright William Congreve wrote, "Heaven has no rage like love to hatred turned, Nor hell a fury like a woman scorned". He obviously had not encountered Dee Ann Sweeney.  Given the choice, I would go with the woman scorned any time!  I learned at an early age that big sister trumps
everything.  Dutifully, I trailed her into the den.My parents must not have been home at the time because the t.v. was cranked up to maximum volume.  Five guys were playing rock and roll on television…in West Texas!  Things like this didn't happen in West Texas!  That trusty old RCA television, that usually spewed forth the likes of Perry Como and Lawrence Welk, was blasting songs like "That's All Right Mama" and "Rock Around The Clock"!  I froze!  Did the police know about this?  I checked outside to make sure the neighbors hadn't called the John Birch Society.  No crazed picketers yet!  We were safe for the time being!
This was unprecedented in my experience!  My sister was bouncing around the room like a crazed monkey!  Then, the band, now known as The Teen Kings, kicked into a song I had never heard before.
Hey, baby, jump over here
When you do the ooby-dooby, I just gotta be near
Ooby-dooby, ooby-dooby, ooby-dooby, ooby-dooby
Ooby-dooby, ooby-dooby, ooby-dooby
Dooby-do-wah-do-wah-do-waaah
Well…it wasn't Cole Porter or Rodgers & Hammerstein, but those guys couldn't play guitar like the guy with the thick glasses! Thick glasses? Rock and roll on television? My little brain was swimming!  Then my sister shouted, "These guys are from Wink! Can you believe it?".   Wink?  Wink, Texas?  Compared to Wink, our little two stoplight town was Metropolis! I remember one of my Dad's friends joking that he "spent a week in Wink one night"!  I clearly remember hearing a sound from deep in my brain. "SNAP!!!"  Ordinary looking guys from Wink, Texas playing rock and roll on t.v.?  Rock musicians were all from Memphis or Hollywood…not Wink! My little brain was scrambled! I was never the same after this experience.  Friday afternoon became a special time for my sister and I.  We never missed a single show.  Every time we watched, it seemed the band was better than the week before.  It never occurred to us that these guys would go any further than this t.v. show.
Finally, it all came to an end.  Roy announced that this week's show was the last.  The band had been signed by Sam Phillips record label, Sun Records.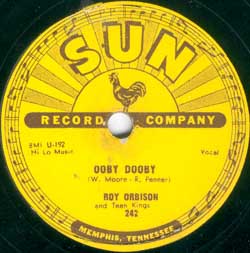 The band from Wink was going to Memphis!  We didn't know if we should be happy or sad.  Ultimately, happy won out.  My sister and I went back to our everyday lives, although Friday was always a little strange without our rock and roll ritual.  My sister and I had always been close, but this experience made us more than friends.  We became co-conspirators.  I turned her on to Wolfman Jack and his legendary radio broadcasts from XERF in Ciudad Acuna, Mexico…a location that would be significant in another way, later in life (we will save that story for another time).   She helped me pick out my first black leather jacket.  I provided her with a believable cover story when she wanted to go to a "sleep-over" with her friends.  She took the rap for the beer bottle that rolled out of my glove compartment and landed in my mom's lap.
Over the years we continued to look out for each other.  After I graduated from high school, I was drifting.  I had broken up with my girlfriend.  My friends had gone away to college. I was working the late night DJ shift at a radio station that no one listened to after 6 PM.  I was stuck.  I ended up at Dee's house…she was married by then.  I was well into a self-pity, whine thing, when she finally snapped.  "Boy! Have you totally lost your mind!", she barked.  I had been whining about staying in town and trying to patch things up with my lost love.  "If you stay here, you are going to end up being the world's oldest DJ, in a town that doesn't want to hear what you're playing!".  We talked for hours about doing what you want to do, not what other people want you to do.  "I should know", she said.  We didn't talk about that.  Her eyes told the story.  Two months later, I was gone.  I finally followed a path that wasn't plotted out by someone else.  I'm not even sure that I plotted the path…I just followed where it was going.   I became something that I wanted to be.  Sure, I came home for special occasions…weekend parties, weddings, holidays, funerals.  I came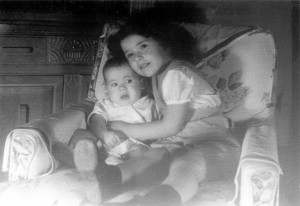 home for Dee's funeral, then I didn't come home again for a long time. I stayed away, but took her advice and her Roy Orbison albums wherever I went.
So why all this babbling about Roy Orbison?  Much better writers than I have detailed Roy's career.  There are no new revelations here.  Roy Orbison made music that touched millions of people. He influenced many of the great musicians of our time.  He reinvented himself after the music business had written him off…several times.   He kept coming back and giving us a new version of Roy Orbison.  Nothing new there.  I guess the point I am trying to make is, Roy Orbison, without knowing it, changed a shy, socially retarded boy into a shy, socially retarded rock and roller!
I decided to write this little rant the other day, after I watched the dedication ceremony for Roy Orbison's star on the Hollywood Walk of Fame.  January 29th, 2010 Roy finally received a star.  He joined great musicians like Chuck Berry, Billie Holiday, Duke Ellington, Irving Berlin and The Beatles on the Walk of Fame.  Of course, he had wait until P. Diddy, Kenny G., Donald Duck, Bugs Bunny, Big Bird and Paula Abdul had received their stars.  Paula Abdul??!!! Big Bird?  Hollywood has it's priorities!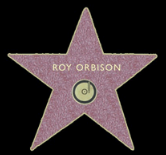 It was bittersweet watching the ceremony.  Roy was gone.  My sister was gone.  I was still hanging around.  I punched up the ceremony on the internet and watched.  After the event ended, I pulled out a well-worn vinyl copy of Roy Orbison-The Sun Years, tossed it on the turntable in my studio and cranked the volume…a lot.
Hey, baby, jump over here
When you do the ooby-dooby, I just gotta be near
Ooby-dooby, ooby-dooby, ooby-dooby, ooby-dooby
Ooby-dooby, ooby-dooby, ooby-dooby
Dooby-do-wah-do-wah-do-waaah
Well, you wiggle to the left, you wiggle to the right
You do the ooby-dooby with all of your might
Ooby-dooby, ooby-dooby, ooby-dooby, ooby-dooby
Ooby-dooby, ooby-dooby, ooby-dooby
Dooby-do-wah-do-wah-do-waaah
Well, you wiggle and you shake like a big rattlesnake
You do the ooby-dooby til you think you have a break
Ooby-dooby, ooby-dooby, ooby-dooby, ooby-dooby
Ooby-dooby, ooby-dooby, ooby-dooby
Dooby-do-wah-do-wah-do-waaah
Well, you've been strutting cause now you know
Let's do the ooby-dooby, baby let's go
Ooby-dooby, ooby-dooby, ooby-dooby, ooby-dooby
Ooby-dooby, ooby-dooby, ooby-dooby
Dooby-do-wah-do-wah-do-waaah